News
14.05.2013
60 days left to Castle Party Festival
60 days left to Castle Party Festival we shall play in church on 13/07 at late evening expect some lunar misterium in there ,,/,
see ya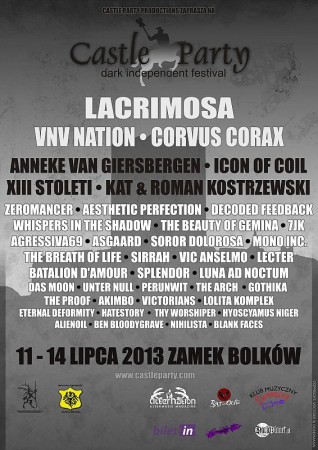 29.04.2013
Dear Friends,
Unfortunately, due to private reasons we are forced to cancel our show with Belphegor on 8/05.13 in Zabrze (PL). Nevertheless, we're sure that there will be many occasions to see LAN live very soon !
Keep on banging ,,/,
04.08.2013
Luna Ad Noctum with Belphegor two killer shows in Poland!
04.02.2013
New gig confirmed!
New gig in Wroclaw (POLAND) 20.04.2013 confirmed!
See u there!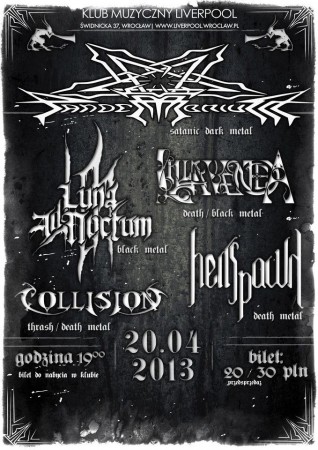 03.05.2013
Abnormal Pain - Live
Some moving pictures from Kamienna Góra live 02.02.2013
"Abnormal Pain" from Hypnotic Inferno.
02.08.2013
Cooparetation with Heart of Rock Agency
We're ager to let you know that we've already started cooparetation with Heart of Rock Agency regarding shows booking in poland & abroad as well.

www.heartofrockagency.com

Booking adres : office@heartofrockagency.com
tel: + 48 91 433 53 32

18.01.2013
In Hypnosis on Massacre website
Hello Folks !
Massacre Records has already published officially one track called "in Hypnosis" from our forthcoming album "Hypnotic Inferno". Check below adres.
Here we go!
More info soon.
01.10.2013
Luna Ad Noctum on Castle Party 2013
We're happy to inform that we've been invited to take participation in Castle Party Festival 2013, the biggest Gothic festival in Middle - East Europe!
See You there !