News
01.03.2013
Luna Ad Noctum new track online!
Another track from new album revealed!
This one is called "Abnormal Pain" comes from our forthcoming album "Hypnotic Inferno" out in 22nd of Feb 2013 by Massacre Records.
Hope You will like it !
LAN Team
12.03.2012
New shows
Hello Maniacs,
whilst our newest album is slowly emerging from the deeep darkness to see the lunar light finally in the beginning ov 2013. We're eager to inform You that we've been been invited to Krakow (PL) to play a show at Sadistic Festival vol 1 with norwegian black metallers from Ragnarok. Morever, we're also going to Austria to take part in "Black Castle Night" festival.
Check out details on posters.
More confirmed shows soon!
666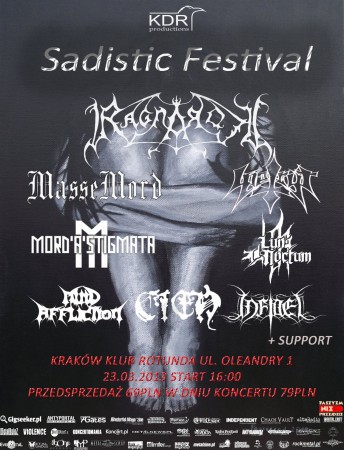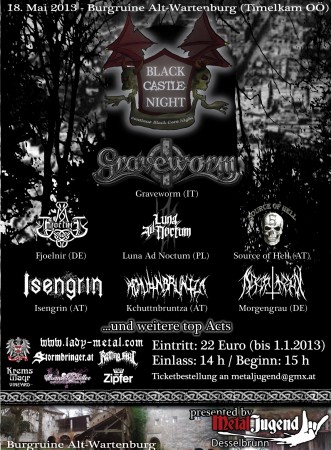 15.10.2012
Luna Ad Noctum signed to Massacre Records!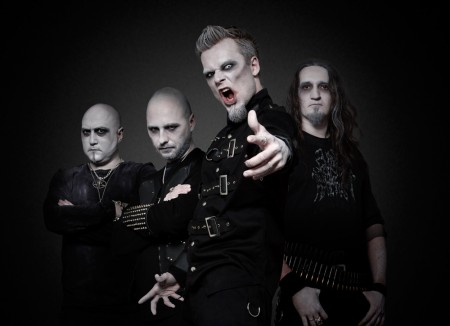 Yes! We're proud to announce that our new album "Hypnotic Inferno" will be officially released by german's prestigious label Massacre Records! Luna Ad Noctum's new album shall stand in the line next to: King Diamond, Agathodaimon, Sinister, Legion of the Damned, Catamenia, etc. The album will be released worldwide. In Poland "Hypnotic Inferno" will be distributed through Mytsic Production.
"This is the great honor for Luna Ad Noctum, that our music has been appreciated by such prestigious label like Massacre Records. We're very optimistic and happy of the fact that after all those 14 years playing metal, finally we have been given a great opportunity to cooperate with professionals who shall take care about real promotion for LAN. Thanks to Massacre Records "Hypnotic Inferno" will land either in well known European distros, big music stores, zines or prestigious music magazines all over the world. We're really excited and waiting for the official premiere!".

Official album release is scheduled on: 22.FEB.2013.
More info at:
http://www.facebook.com/lan.official
www.massacre-records.com
10.01.2012
Charity concert for our friend!
Hell-o there!
Luna Ad Noctum will take part in charity concert for our friend, The Master of tattoo art Andzej "Leńu" Leńczuk, who suffers from oppressive disease.
That's why we'd like to invite everyone who would like to support Andzej in this onerous time. See You in Wroclaw on 12/10/2012 Liverpool Music Club.
Even smallest financial help does matter! We wish Andrzej to recover ASAP!
666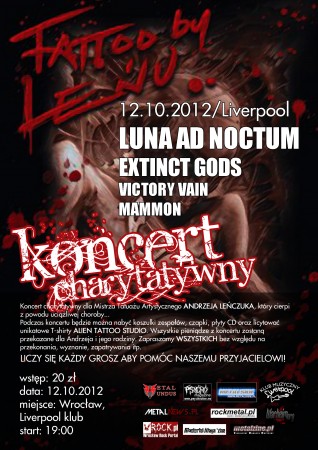 07.03.2012
New Gig
Hell-o!
New gig in Kraków (Poland) 29.09.2012!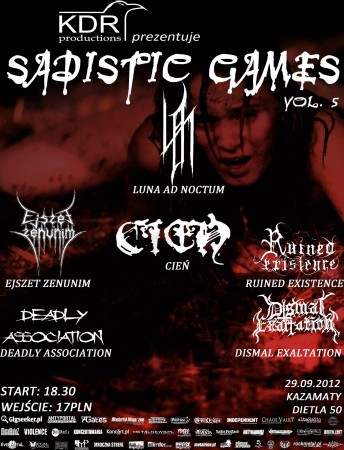 03.08.2012
"Hypnotic Inferno" album cover revealed!
We'd like to proudly present official "Hypnotic Inferno" album front cover

Concept has been prepared by the master of tattoo art Andrzej Leńu Leńczuk www.tattooalien.com.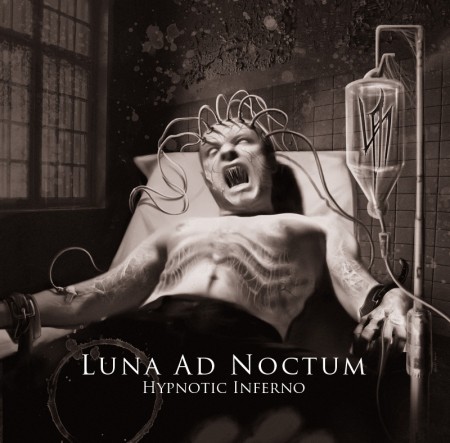 Official Hypnotic Inferno merchandise ( t-shits ) will be available either at our web site or during our forthcoming shows in Mieroszów 24/03 , Wrocław 30/03 (Winter Night Festival)

Promo track "In Hypnosis" mp3 is available as well on: http://soundcloud.com/lunaadnoctum/in-hypnosis or at our official web site www.lunaadnoctum.com and www.facebook.com/lan.official.
More info soon.
20.02.2012
Live PERFORMANCES at last !
We're awakening from the hypnotic slumber and we shall start with LIVE PERFORMANCES at last !
Currently 2 shows are confirmed:
24/03 – Mieroszów (PL)
30/03 – Wrocław (Winter Night Festiwal) (PL)
We'd like to invite all of U , You will be as witness during our new album LIVE shows !
That's right! We're going to play all our new stuff from "HYPNOTIC INFERNO" album LIVE !!
Moreover, new LAN merchandise will be available during shows, also special t-shirts will be prepared specially for U to support LAN with new album promotion.
More Live shows shall be confirmed very soon !
For this time being we're still looking for the label, as soon as sth change we shall announce immediately.
See U soon and keep visiting our website!
Stay Hypnotic
11.03.2011
"In Hypnosis" online!
Hell-o Friends!
As we promised, we would like to share with You by one of a new track "In Hypnosis" coming from "Hypnotic Inferno" lp. This one is the opener of the album.

Also please take a look at some band photos, from Hypnotic Inferno shooting sessions in "Gallery" section, taken by Jacek Zych (www.jacekzych.pl).
Hope You will like it !
LAN team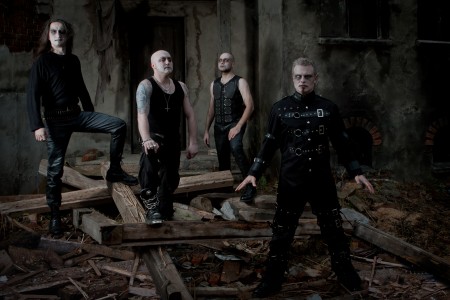 10.10.2011
The 4th Long Play is ready !!!!!
Hi All !
We'd like to proudly informy You that our new 4th album "Hypnotic Inferno" is finally READY !
Currently, we're focused very much on searching for the label to release our lp.
In few days we shall also upload one track online coming from "Hypnotic Inferno" album!
It will help You to find out how the new LAN sound looks like as also shows You the brand new pespective of Luna Ad Noctum coming in.
All You need to do, is either visit our new hypnotic web site or facebook fan page to follow exuberant news we'd like to share with all of You very soon !!!
LAN 666 !
10.10.2011
The new official LUNA AD NOCTUM web site is online!!!!
Welcome to the new Luna Ad Noctum official site !